Then why the FUCK did you vote for it?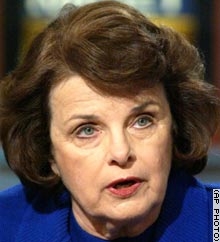 "The Medicare Prescription Drug bill should have been an opportunity to help America 's seniors afford their prescription drugs, not to provide the pharmaceutical companies with a massive government-sponsored subsidy," Feinstein said. "When it was clear that the bill didn't include provisions for the government to use its purchasing power to negotiate for lower prices, I knew there was a major problem.


When it was clear?
What, you didn't read it until after you voted for it?